AEROBES / DISEASES CAUSED BY AEROBES
An aerobic organism or aerobe is an organism that can survive and grow in an oxygenated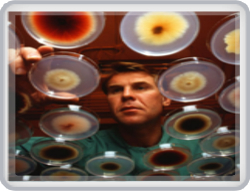 environment. Facultative anaerobes grow and survive in an oxygenated environment and so do aerotolerant anaerobes.
Types:
Obligate aerobes: require oxygen for aerobic cellular respiration. In a process known as cellular
respiration, these organisms use oxygen to oxidize substrates (for example sugars and fats) in order
to obtain energy.
Facultative anaerobes: can use oxygen, but also have anaerobic methods of energy production.
Microaerophiles: are organisms that may use oxygen, but only at low concentrations.
Aerotolerant organisms: can survive in the presence of oxygen, but they are anaerobic because they
do not use it as a terminal electron acceptor.
Diseases:
Meningitis
Sinusitis
Pharyngitis
Anthrax
Tuberculosis
Nocardiosis
Legionellosis
Pneumonia
Wound & skin infections
Sepsis
Endocarditis
Scarlet fever
Acute otitis media